Kyle is my oldest son and today is his 14th Birthday!
He and I were talking about his birth this morning and enjoying a snuggle with one another before he left to go to Lawton, Mi. to attend Ice camp @ Miracle Camp!
I know that Kyle, his brother Zachery and my husband Aaron will have a great time there, especially with the fresh show that just fell in time for a winter camp-out!  What a wonderful treat to actually have "Ice" Camp and not "MUD" Camp!
Here is one of my favorite pictures of Kyle from when he was little – showing off that dimple of course!
And here is his recent school photo – Happy Birthday Buddy!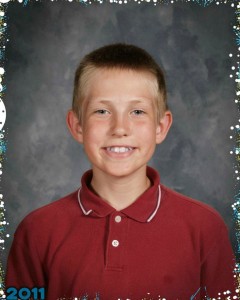 With three of the guys away I intend to begin my next big project  in Internet Marketing.
I will be writing an eBook this weekend – the topic is going to remain a secret for now, but I am hoping with a little bit of focus and a lot more quiet than I am used to – to get this done this weekend!
THAT would be GREAT!!
WHAT are you doing to excel in your life this weekend?
Until next time – I wish for you Success!